Affiliate Panel
How to create affiliate commission plans
Affiliate for Artifism helps you to add, manage affiliates, and track performance from a single place – commissions, sales, payouts, etc. Earn money without hard work. Increase your brand outreach and get potential customers.
How do you set up a storewide commission rate? How to assign a higher or lower commission rate than the storewide commission rate to some affiliates? How to assign commissions based on several rules? And many more options.
Affiliate for Artifism allows you to create all the above and other use cases by creating a commission 'Plan'.
Whether you want to assign different commissions for different products, assign commissions based on different rules, assign commissions only on the first product and not on other products in an order, and many other scenarios. You have to create an affiliate commission plan and set rules and you are good to go.
Create a commission plan
Now let's see how you can create a commission plan-
1. Go to your Artifism Affiliate panel > Commission Plans. The dashboard will show all your commission plans.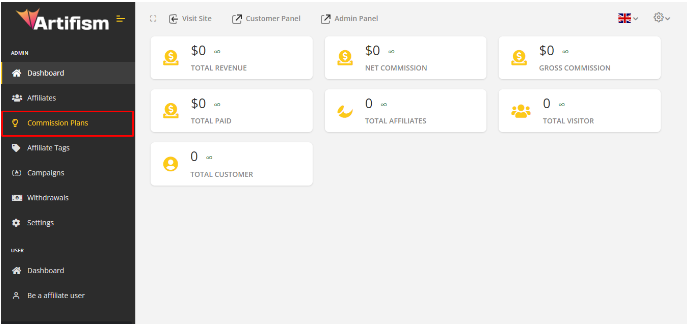 2. A default 'Storewide Default Commission' plan will be created for you. Click on it. Set a percentage or flat rate commission that will be applicable by default. In the same plan, under 'How many tiers?', keep the value '1' if you don't want a tiered commission. Click on Save. Note – The Storewide Default Commission plan is a mandatory one and it can not be deleted.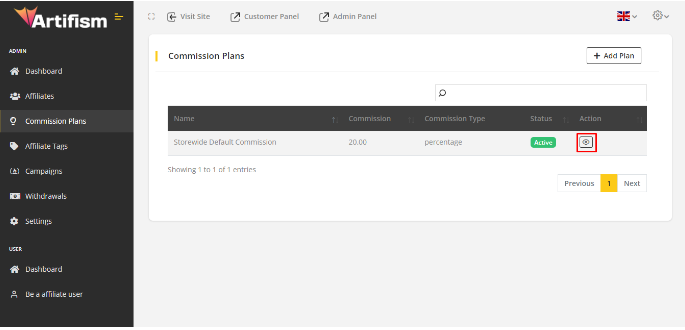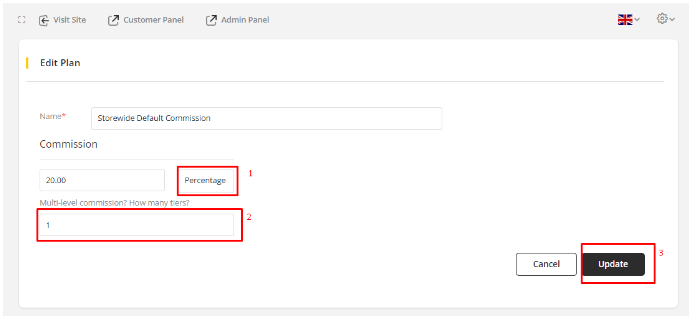 3. Now to create a new commission plan, click on the 'Add Plan' button at the top right. It will open up a commission creation page.

4. Under 'NAME', give an appropriate title to the commission plan you want to set up.

5. Under 'COMMISSION', from the drop-down, select Percentage (%) or Flat (store currency) for percentage commission or flat rate commission respectively, and enter the amount. In terms of flat-rate commission, the commission will be applied per order. So if the order total is less than the commission rate, the affiliate will still get the set commission rate for that order.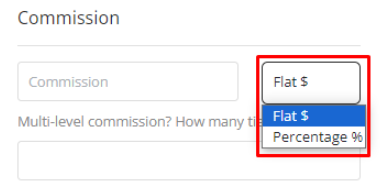 6. Next to 'COMMISSION', you'll see the 'Rules' option. Use it to validate multiple rule groups within a commission plan.

7. You can select 'all' or 'at least one" from the dropdown for the 'WHEN' of the 'Rules' option to validate a condition. As the name suggests, 'all' means all rule groups should be satisfied. For 'at least one', a minimum of one condition should satisfy. It's your familiar AND (all), OR (at least) rules.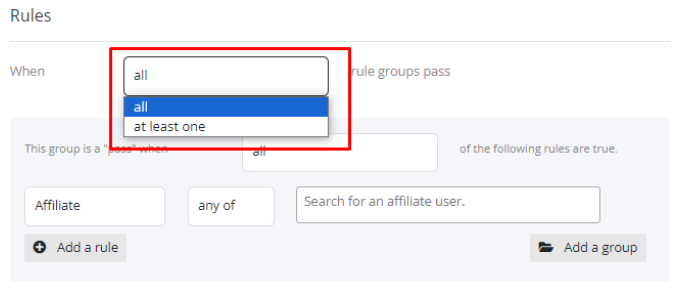 8. The same applies to individual rule groups under "This group is a "pass" when". Choose 'all' or 'at least one" from the dropdown.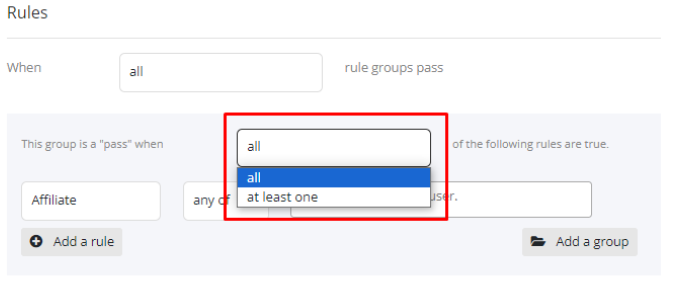 9. Now within each rule group, you can set up multiple rules.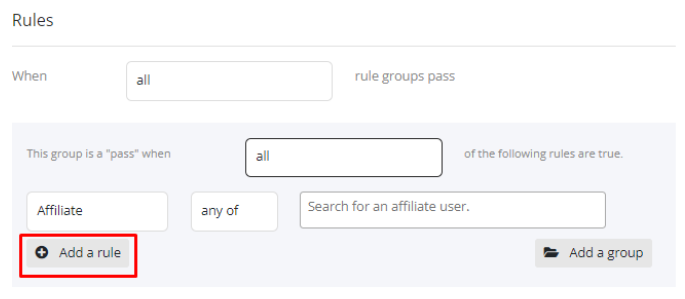 10. Select "Affiliate / Affiliate Tag / Package / Credit" from the drop-down. Use 'any of' to include affiliates/tags/package or credit you want to apply commission for. Use 'none of' to prevent the commission calculation with specified affiliates/affiliate tags/package or credit.

11. You can search by affiliate name, affiliate tag, package, and credit. Type your desired queries and you'll see some results. Select the ones you want.

12. Click on 'Add a rule' to add multiple rules within the same group if required. Use the 'delete' icon to remove a rule.

13. Click on 'Add a group' to add a new rule group if required. Click on the 'Remove group' option to remove a rule group.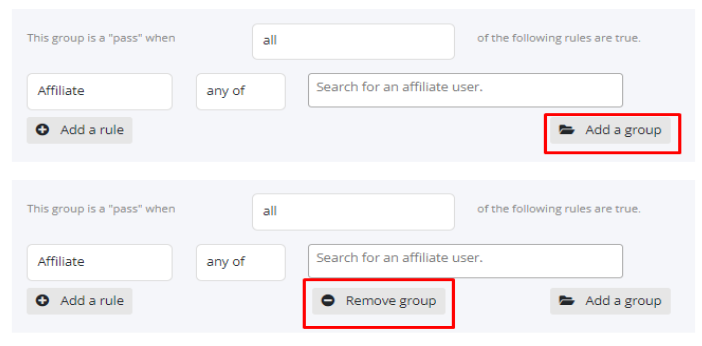 14. First, all conditions within a rule group will be checked. And then, conditions between two or more main rule groups will be checked as set under 'WHEN'.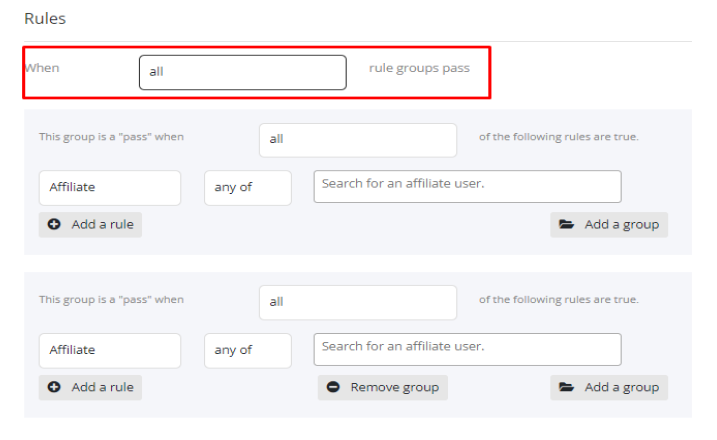 15. Under 'HOW MANY TIERS', enter a number based on how many tiers you want for this commission plan.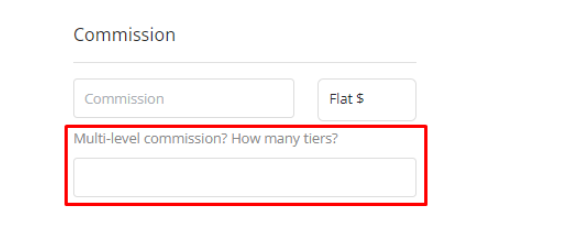 16. Select 'Active' from the drop-down at the top to publish the plan.

17. Click on the 'Create' button.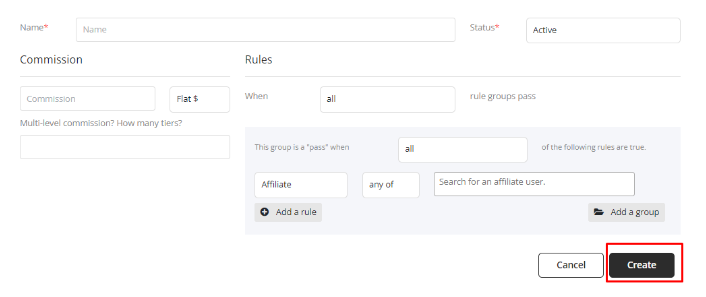 Your commission plan is now live.